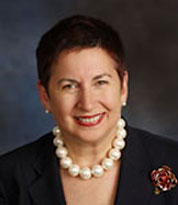 Rhonda Barnat is one of the country's leading crisis counselors, providing strategic advice to senior management in highly complex and sensitive crises. She is often called upon at defining moments in a company's or institution's history. Rhonda Barnat, along with other firm members, appears on the short-list of selected crisis counselors pre-approved by major insurance companies for major crises of all kinds.
Her clients cover the full spectrum of industries, including financial services, healthcare, and manufacturing, as well as not-for-profit organizations and other institutions.
Before joining The Abernathy MacGregor Group in 1996, Ms. Barnat managed media relations at The Bank of New York. She also managed communications and community affairs at River Bank America, where her corporate philanthropy work was recognized in Doing Best by Doing Good (Dutton, 1992). Earlier, she served as public information officer at The University of Michigan Hospitals.
She has published articles in numerous publications, including The New York Times, The Washington Post, and The Detroit Free Press. Ms. Barnat has a B. A. degree in English Literature from the University of Rochester and a Masters degree from the University of Michigan. She is a frequent speaker on crisis communications throughout the country.